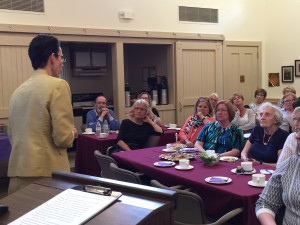 The National Susan B. Anthony Museum & House is pleased to present the 14th season of its popular Monday Lecture Series!
This season's exciting line-up includes guest speakers covering a wide range of topics related to the life, work, and legacy of Susan B. Anthony.
Each presentation is offered as a noon luncheon ($25) or 2 pm informal tea ($15) in our Carriage House.
Space is limited and these programs do sell out! Make your reservations for one lecture or the whole season!
To register, please call our office at 585/279-7490 x 10 or reserve online today!
---
2016 – 2017 Monday Lecture Series
September 26, 2016
Ballots, Bloomers, and Marmalade – The Life of Elizabeth Smith Miller

Norman K. Dann, PhD, Professor Emeritus, Morrisville State College, and author
October 3, 2016
Jemima Wilkinson and Religion in Revolutionary America

Dr. Paul B. Moyer, Professor of Early American History, the College at Brockport
November 7, 2016
Lydia Folger Fowler, Phrenologist for Suffrage

Dr. Jennifer Lloyd, Associate Professor Emerita, the College at Brockport
December 5, 2016
Dear Princess Grace, Dear Betty Friedan: A Memoir

Alida Brill, author
January 23, 2017
Kicking Off 2017 – The New York Women's Suffrage Centennial

Christine L. Ridarsky, Rochester City Historian
February 27, 2017
The Ladies of Rochester's Central Medical College, 1850-1852

Jane Oakes, MA
March 13, 2017
Eleanor Roosevelt and the Democratic Process

Andreas Meyris, PhD candidate, the George Washington University
April 3, 2017
Susan B Anthony, Transatlantic Travel, and the International Council of Women

Dr. Jean Elisabeth Pedersen, Associate Professor of History, Eastman School of Music
May 22, 2017 — SOLD OUT
Mary Church Terrell: A Black Woman's Perspective on Suffrage and Civil Rights

Dr. Alison Parker, Professor of History, the College at Brockport
June 19, 2017
Orchestrating Change: Amy Kirby Post and Woman's Rights, 1828-1888

Dr. Nancy A. Hewitt, Emeritus Professor of History and Women's Studies, Rutgers University
Call 585/279-7490 x 10 or visit us online to reserve your seat today!