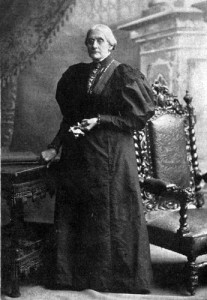 On March 13, 1906, at forty minutes past midnight, Susan B. Anthony died at the age of 86 in her own bed on the second floor of the house on Madison Street, her home of 40 years.
At her request, much of the ceremonial mourning of the day was not observed: no shades were drawn, no black crepe hung. Only a simple wreath of violets was placed on the front door. For two days, close friends and family came to call. Then on March 15, the world said good-bye at an immense funeral held in Central Presbyterian Church (now the Hochstein School of Music). Amid a raging blizzard, thousands of mourners filled the church and over ten thousand more passed by her flag-draped coffin that was flanked by an honor guard of women students from the University of Rochester—the school she'd finally opened up to them in 1901. Next to the coffin was a silk suffrage flag with four gold stars, representing the only states where women then could vote; pinned on her breast was a jeweled flag pin with four diamond stars, a gift from women of Wyoming, the first in our nation to win the vote, thanks to all of her efforts on their behalf.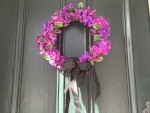 The Rochester newspaper of the day reported: "Rochester made no secret of its personal grief. There must have been people of every creed, political party, nationality, and plane of life in those long lines that kept filing through the aisles of Central Church. The young and the aged of the land were represented. Every type was there to bow in reverence, respect and grief. Professional men, working men, financiers came to offer homage. Women brought little children to see the face of her who had aimed at being the emancipator of her sex, but whose work had ended just as victory seemed within reach. Priests, ministers…, rabbis …, came to look upon her who had more than once given them inspiration in dark moments."
The service in the church lasted an hour and a half. It took another 2 or more hours for the thousands of mourners to file past the coffin. Finally, in late afternoon, with the snowstorm still raging, Susan B's most intimate friends and relatives accompanied her to her final resting place in Mt. Hope Cemetery. There, beneath a simple white stone engraved only with her name and dates, she was laid to rest. The final words were spoken by her dear friend, the Rev. Anna Howard Shaw, who in tender and reverent voice, pronounced these solemn words: "Dear friend, thou hast tarried with us long; thou has now gone to thy well-earned rest. We beseech the Infinite Spirit who has upheld thee to make us worthy to follow in thy steps and carry on the work. Hail and farewell."
Some years earlier, during a family reunion at her birthplace in Adams, Massachusetts, Susan B. Anthony had written her own epitaph. As the family gathered out in the yard on a glorious summer day, amid the horse-drawn carriages of all those who had come to call, someone remarked that the scene looked like a funeral. Anthony immediately replied:
"When it is a funeral, remember that I want there should be no tears.
Pass on, and go on with the work."
Please join us for a memorial wreath ceremony on Monday, March 13, at 11:45 am. The short ceremony will be followed by a Lunch and Lecture in our Carriage House (that event is sold out). The wreath hanging is free and open to the public. Dress for the weather.