The House at 17 Madison Street was purchased by Susan B. Anthony's mother, Lucy Read Anthony, in 1866. Susan & Mary lived in the home until their deaths in 1906 and 1907, respectively. After Mary's death, the House was sold to private owners from outside the family. In the 1940s, a group led by women from the Rochester Federation of Women's Clubs raised the funds to purchase the House as a memorial to Susan B. Anthony and her work. For more information, please visit our timeline.
The Back Parlor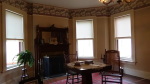 Frederick Douglass and Susan B. Anthony shared a great friendship. Douglass escaped from slavery in Maryland as a young man and became one of the most prominent leaders of the abolitionist movement. He was also a strong proponent of women's rights and attended the Women's Rights Convention in Seneca Falls in 1848. He and Anthony met that same year and became co-workers for both causes. Despite differences and disagreements along the way, Douglass and Anthony remained friends until his death in 1895. Douglass spent the final day of his life at a National Woman's Council meeting, sitting with Anthony on the speakers' platform. Five days later, Susan B. Anthony was one of the eulogists at his funeral.
The Dining Room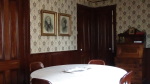 Just beyond the back parlor is the dining room. The lithographs of Susan B. Anthony & Elizabeth Cady Stanton are reminders of their more-than-50 years of friendship and work together in the women's rights movement. The two met in Seneca Falls in 1851, introduced by Amelia Bloomer. Each displayed a portrait of the other in her home.
The Front Parlor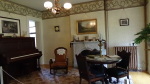 At the front of the House on the first floor, the front parlor is one of its most historically significant rooms. Here Susan B. Anthony was arrested by a deputy U.S. marshal for voting in the 1872 election. She voted in an attempt to prove that women had the legal right to vote under the provisions of the recently passed 14th and 15th amendments to the Constitution. After successfully registering to vote, Anthony and approximately 14 other local women voted on November 5, 1872. Two weeks later, she was arrested, right in this very room.
Her trial was moved to Canandaigua in June 1873. Anthony was not allowed to speak in her own defense. The all-male jury was not allowed to deliberate. Judge Ward Hunt delivered his verdict of guilty and fined Anthony $100 plus court fees. That sum has never been paid.
Anthony's Study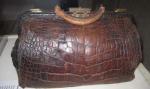 The room at the top of the stairs on the second floor is Susan B. Anthony's study, one of her favorite rooms. A photo shows Anthony at her desk, surrounded by photographs & portraits of other leaders in The Cause. She frequently reminded reporters and interviewers that she did not do any of her work alone. Anthony's signature alligator bag is displayed here.
Third-Floor Workroom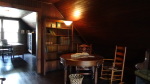 The attic work space, added in the mid-1890s, is where Susan B. Anthony & Ida Husted Harper wrote two volumes of The Life & Work of Susan B. Anthony and also drafted the 4th volume of The History of Woman Suffrage. The 1st three volumes of this work were written as a collaboration between Anthony, Stanton, and Matilda Joslyn Gage.
The Guest Room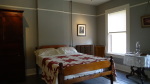 This room served several different functions during the Anthonys' time in the House, including sitting room, bedroom, and mail room. Today, it is the Guest Room, displaying portraits of Lucy Read Anthony and six other prominent women who once stayed with the Anthonys: Elizabeth Cady Stanton, Anna Howard Shaw, Ida Husted Harper, Carrie Chapman Catt, Ida B. Wells Barnett, and Charlotte Perkins Gilman.
Mary Anthony's Bedroom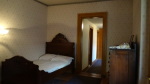 Though lesser-known than her sister, Mary S. Anthony was no less of an activist. She was an ardent suffragist, writing on her 1901 tax bill: "Enclosed find $62.63 city tax which I pay under protest, still believing that taxation without representation is as great a tyranny today as it was in 1776." Mary was among the first woman principals of a Rochester school and the very first to demand, and receive, the same salary as her male predecessor.
Susan B. Anthony's Bedroom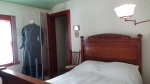 In February 1906, Susan B. Anthony spoke briefly at a celebration in honor of her 86th birthday in Washington, D.C. In her remarks, she said, "There have been others just as true and devoted to the cause. With women such as these consecrating their lives, failure in impossible." That phrase would become the motto of the suffrage campaign following her death. It was her final public appearance.
Anthony returned home, taking to her bed, and finally succumbing to pneumonia on March 13, 1906. It would take another 14 years before the ratification of the 19th amendment finally extended the vote to women.
On display in this room is a black silk dress, which belonged to Anthony. The silk fabric was a "thank you" gift from the women of Utah, who raised silk worms.