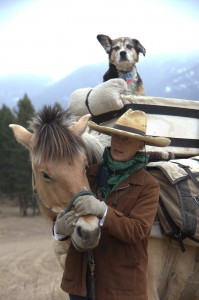 Bernice Ende will travel through Rochester on Thursday, September 4th, making stops at the National Susan B. Anthony Museum & House and Mt. Hope Cemetery. Ms. Ende, a retired teacher, is currently on a 2 ½ year, 8,000 mile horseback trek across the United States and Canada to commemorate Montana's suffrage centennial.
Ms. Ende will pay her respects and give prepared remarks at Susan B. Anthony's gravesite in Mt. Hope Cemetery, section C, at approximately 11:15 am. She will be available to media for a limited time following her remarks. Ms. Ende will then proceed to the Susan B. Anthony neighborhood, arriving at the Anthony Museum on horseback by 1:30 pm, where she will also be available to the press. At 3:00 pm, Ms. Ende will present "1914 to 2014: 100 years of woman suffrage in Montana" in the Carriage House. The public is invited to attend this exclusive engagement.
For more information on Bernice Ende, please visit her website at www.endeofthetrail.com.
Museum Contact: Sarah M. Abbamonte, Director of Communications, 585/279-7490 x15