For more information about our Boy Scout programs, please see below and contact our program director, Annie Callanan at 585-235-6124, ext 19.

Cub Scouts
Complete your Bear Achievement #8
"The Past Is Exciting and Important!"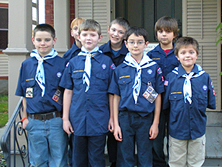 Experience an amazing part of your community's history with a special Cub Scout tour of the Susan B. Anthony House!
Do a Good Turn in the Susan B. Anthony House neighborhood and park!
Work through the Character Connection for Respect and learn about your parents when they were your age!
Finish the program by making a page to add to your den scrapbook!
Supplies provided.
One and a half hour program. Cost $6 per person for everyone.
Tiger Cubs
Family Life Now and Then #1G
Visit a Museum and find out how family life was the same and how it was different many years ago.
Hour long program. $5 per person for everyone
Learn about the education, health care, family, and culture of the 19th century!
Leaders: contact Annie Callanan, director of programs, at 235-6124 x 19 or acallanan@susanbanthonyhouse.org to reserve a time to bring your Bear Cub Scouts to the Susan B. Anthony House!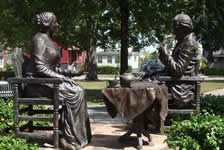 Susan B. Anthony and Frederick Douglass
in the park on Madison Street
Boy Scouts
Citizenship in the Nation Merit Badge
Merit Badge Counselor for Citizenship In The Nation: Annie Callanan
e-mail annie.callanan@susanbanthonyhouse.org or call 585-235-6124 x19
Susan B. Anthony House
National Historic Landmark
17 Madison Street
Rochester, NY 14608
Make reservations to come as a group to earn your Citizen in the Nation Merit Badge.
Call or email for availability of weekdays after school, and/or weekend days.
Plan a two hour block of time.
The cost per Boy Scout is $8.00.
(This price does not include the badge.)
Bring your Blue Card.