Girl Scout Programs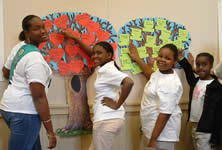 We have programs for all levels of Girl Scouts. To learn more, click below on the level of scouting.
All Girl Scout programs include a special tour of the Susan B. Anthony House, uniquely designed for each program, along with activities in the Carriage House. The Susan B. Anthony House is located at 17 Madison Street. Programs begin in the Visitors Center, at 19 Madison Street.

Programs are filled on a first-come, first-served basis. Make your reservations early by submitting an online request.
You may also make a reservation by calling Program Director, 585-235-6124 or by emailing the Program Director today! (A 50% non-refundable deposit is required.)