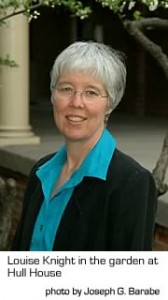 FOR IMMEDIATE RELEASE: Tuesday, December 3, 2013
CONTACT: Ellen K. Wheeler, (585) 279-7490, ext. 15, Director of Public Relations & Communications
National Susan B Anthony Museum & House announces annual birthday luncheon speaker!
Rochester, NY—The National Susan B. Anthony Museum & House proudly announces that its keynote speaker for the Annual Susan B. Anthony Birthday Luncheon, to be held Wednesday, February 12, 2014, is Louise W. Knight, author, lecturer, and historian.
In making the announcement, Anthony House president and CEO Deborah L. Hughes shared that the theme of the 2014 luncheon is "Up and Doing." It's a subject Louise Knight knows very well, as she is the author of two biographies on Jane Addams, one of the late 19th-century and early 20th-century activists in moving public perception and attitudes. Prominent in the battle for woman suffrage and a friend of Susan B. Anthony, Addams is perhaps best known as the co-founder of Hull House, the nation's first settlement house. Knight will focus on Addams's and Anthony's ideas about democracy and how each of them put those ideas into action— "up and doing"—for the causes they held dear.
In addition to her Addams biographies, Louise Knight's writing has been published in the New York Times, the Wall Street Journal, the Chicago Tribune, and the Women's Media Center website. She is currently working on a book about Angelina and Sarah Grimke, two abolitionists and women's rights advocates of the 1830s.
The Susan B. Anthony Birthday Luncheon is held each year in mid-February to celebrate Susan B. Anthony's February 15th birthday, to honor contemporary women who continue her legacy, and to raise awareness of the education and inspiration programs that take place at and through the National Historic Landmark on Madison Street. The luncheon takes place at the Rochester Riverside Convention Center.