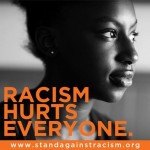 Susan B Anthony was a champion for human rights for all, but she lived in a time when racism was rampant. Visit her National Historic Landmark home and take a tour to learn about her work to end slavery, as well as her friendships with Frederick Douglass and Ida B Wells Barnett.
Let us know you're taking a "Stand Against Racism" on Friday, April 25, and receive a free admission with the purchase of one at equal or greater value.
The National Susan B. Anthony Museum & House is open Tuesday – Sunday, 11am – 5pm. Regular Price: adult admission $10; $8 seniors; $5 students and ages 12 and younger.