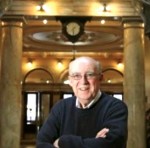 Jim Memmott, a retired reporter and editor, writes the weekly "Remarkable Rochester" column for the Democrat and Chronicle, focusing on the connections between Rochester's past and present and on the people who have made significant contributions to the area.
A native of Little Valley, N.Y., and a graduate of Hamilton College and the University of Minnesota, Memmott, 72, taught English for nine years at St. Lawrence University in Canton, N.Y., before joining the Times-Union in Rochester in 1980 as a reporter. He went on to be a general assignment reporter, executive city editor and managing editor at the Times-Union and later managing editor and senior editor at the Democrat before retiring in 2007.
He teaches journalism at the University of Rochester and lives in Geneseo with his wife, Cindy.
Memmott will speak on "Giving Them Their Due: Finding Rochester's Other Great Women". The luncheon is scheduled for Friday, May 2, 2014 at 11:30am.
To reserve your seat for this event, please visit our
website
.