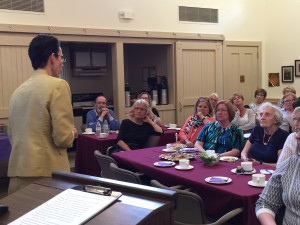 The National Susan B. Anthony Museum & House is pleased to present the 13th season of its popular Monday Lecture Series!
This season's exciting line-up includes guest speakers covering a wide range of topics related to the life, work, and legacy of Susan B. Anthony.
Each presentation is offered as a noon luncheon ($25) or 2 pm informal tea ($15) in our Carriage House.
Space is limited and these programs do sell out! Make your reservations for one lecture or the whole season!
To register, please call our office at 585/279-7490 x 10 or reserve online today!
---
2015 – 2016 Monday Lecture Series
September 28, 2015
Encouraging the Actions of Nobler Spirits: The Life of Frances Seward           Lunch is SOLD OUT!!!

Jennifer Haines, Manager of Educational Programs, Genesee Country Village and Museum
October 5, 2015
Bringing Susan B. Anthony into Modern Day
Dr. Catherine Cerulli, Director, Susan B. Anthony Center for Women's Leadership, University of Rochester
November 16, 2015
The British Suffragettes                 Lunch is SOLD OUT!!!

Dr. Jennifer Lloyd, Associate Professor Emerita, the College at Brockport
December 14, 2015
The Other Woman: Alice Hay Wadsworth, President of the National Association Opposed to Woman Suffrage
Bruce Klee, former chair, Department of Dramatic Arts, SUNY Geneseo
January 11, 2016
First Come, Last Served: American Indian Voting Rights
Phil Weisberg, course leader, Osher LLL Institute, Rochester Institute of Technology
February 29, 2016
Susan B. Anthony, Hildegard of Bingen, and Getting Things Done
Dr. Honey Meconi, Professor of Music and Musicology, University of Rochester
March 21, 2016
Susan B. Anthony, Frederick Douglass, and the Battle Over the 15th Amendment
Dr. Catherine Adams, Associate Professor of History, SUNY Geneseo
April 18, 2016
Stanton, Anthony, and Gage: Frenemies for Suffrage
Dr. Mary E. Corey, Associate Professor Emerita, the College at Brockport
May 9, 2016
Showcasing Great Women…Inspiring All! (includes book signing)
Jill Tietjen, historian and author
June 6, 2016
The Summer of 1848: Building a Women's Rights Movement
Dr. Carol Faulkner, Professor of History, Syracuse University
Call 585/279-7490 x 10 or visit us online to reserve your seat today!