League of Women Voters Rochester Metropolitan Area Presents
Women Voted in New York Before Columbus
 Monday, March 19, 2018, 7 p.m. to 9 p.m.
Nazareth College, 4245 East Avenue, Linehan Chapel, Golisano Academic Center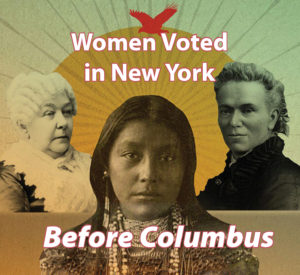 A talk by Dr. Sally RoeschWagner, Professor, Syracuse University; Director of Matilda Joslyn Gage Center for Social Justice Dialogue
When women in New York State began to organize for their rights in 1848, they took their cue from the nearby Haudenosaunee communities, where women lived in the world that non-native women dreamed.
The program will be followed by a book signing and a reception with light refreshments provided by our host, Nazareth College.
Hosted by Nazareth College in recognition of the Helen Guthrie Memorial Lecture
This event, which is free and open to the public, is made possible through the support of the New York Council for the Humanities' Public Scholars program.
Cosponsored by:
The American Association of University Women
The Friends of Ganondagan
The National Council of Jewish Women, Greater Rochester Section
National Susan B. Anthony Museum & House
The Susan B. Anthony Center at the University of Rochester
Advance registration is required.
For more information and registration visit https://tinyurl.com/women-voted or call 585.262.3730.