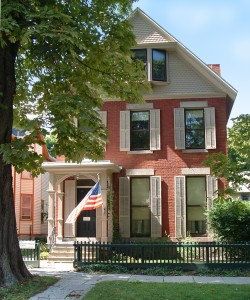 The National Susan B. Anthony Museum & House shares the story of Susan B. Anthony's lifelong struggle to gain voting rights for women and equal rights for all. We keep her vision alive and relevant by preserving and sharing Anthony's National Historic Landmark home; collecting artifacts and research materials directly related to her life and work; and making these resources available to the public through tours, publications, the internet and interpretive programs.
The Susan B. Anthony House was the home of the legendary American civil rights leader during the most politically active period of her life, and the site of her famous arrest for voting in 1872. Come visit through the Photo Gallery, browse through the extensive selection of merchandise in our museum shop, and learn about our ever-expanding programs. Best yet, come see us in person! With such an incredible and inspiring story, you won't be disappointed!
The National Susan B. Anthony Museum & House is a not-for-profit museum and learning center, made possible through the support of our wonderful members and amazing corps of volunteers. Become a member — and you will be an important partner as we share the story of this courageous American patriot with thousands of visitors each year. Your support enables us to welcome school children for special theme tours and educational programs to teach them about Susan B. Anthony's struggle for equal rights—and help us to collaborate with other organizations to keep alive her story of courage and perseverance.