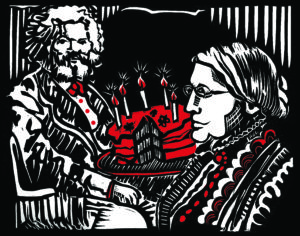 The National Susan B. Anthony Museum & House
 presents the
Annual Susan B. Anthony Birthday Luncheon
Wednesday, February 14, 2018
Noon to 1:30 pm
Joseph A. Floreano Rochester Riverside Convention Center
123 East Main Street • Rochester, New York
A New York World reporter once observed that Susan B. Anthony "kept the fun barometer way up! At the Annual Birthday Luncheon  on February 14, 2018, there will be much to celebrate.  This February 14th is bicentennial of the date that Frederick Douglass chose as his birthday and is a day before Susan B. Anthony's 198th birthday on the 15th.
Along with celebrating the  birthdays of these two human rights activists and friends, the Birthday Luncheon celebrates their accomplishments, reminds us of their unfinished work—and challenges us to "take the wheel."
The keynote speaker for the 2018 Susan B. Anthony Birthday Luncheon will be Elaine Weiss, journalist and author of  The Woman's Hour: The Great Fight to Win the Vote, a narrative account of the dramatic climax of the woman's suffrage movement, which will be published by Viking in March 2018.
"2018 is a bridge year between New York's suffrage centennial in 2017 and the centennial of the 19th Amendment in 2020," says Deborah L. Hughes, President & CEO of the National Susan B. Anthony Museum & House. "There is no better time to bring this scholar whose writings explore the road to women's suffrage to our Rochester audience."
Weiss' first book, Fruits of Victory: The Woman's Land Army in the Great War was excerpted in Smithsonian Magazine online, and featured on C-Span and public radio stations nationwide. Weiss has also given presentations at the Library of Congress, National Archives, Smithsonian Museum of American History, Hull House, the Chautauqua Institution, and many other major libraries, historical societies, and universities.
Reservations are now closed for the 2018 Luncheon, and we look forward to seeing you on February 14th!