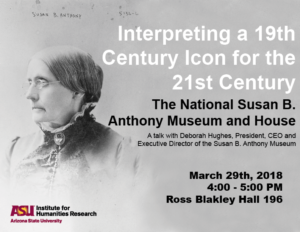 On Thursday, March 29, Deborah L. Hughes will present Interpreting a 19th Century Icon for the 21st Century: The National Susan B. Anthony Museum and House at Arizona State University, Institute for Humanities Research, Tempe, Arizona.  That afternoon she will talk about the challenges involved in running a museum dedicated to the women's rights icon and that is itself an historical landmark. She will also discuss the museum's efforts to make its collections more accessible to 21st century audiences.
Hughes is president, CEO, and executive director of the Susan B. Anthony Museum and House in Rochester, New York, a position she's held since 2007. Hughes has a degree in religious studies from University of Oregon and a graduate degree from Colgate Rochester Crozer Divinity School.
---
The National Susan B. Anthony Museum & House interprets the legacy of the great reformer to inspire and challenge individuals to make a positive difference in their lives and communities. We preserve and share the National Historic Landmark that was her home and headquarters, collect and exhibit artifacts related to her life and work, and offer tours and interpretive programs to share her story with the world.