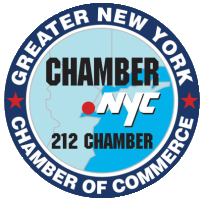 Each year, the Greater New York City Chamber of Commerce celebrates Women's History Month with an awards reception recognizing influential women—including past honorees NYS Senator Kirsten Gillibrand and Lieutenant Governor Kathy Hochul. With this year's theme "Celebrating Equality, Fairness, Respect & 100 Years of Voting Rights!," we are pleased to announce that Deborah Hughes, president and CEO of the National Susan B. Anthony Museum and House, will be honored at the Chamber's  reception on March 22nd, along with honorees Jennifer Gold of the The Carlyle Group NY Center for Cybersecurity & Resilience;  Sandra Wilkin of the Bradford Construction & Women's Builders Council; and Dina Bakst & Sherry Leiwant, co-founders of A Better Balance.
The Women's History Awards Reception will take place Thursday, March 22,  2018, from 6:00pm – 8:00 pm, at the General Society Library, 20 W. 44th Street, New York City.
Here is a link to the  Greater New York City Chamber of Commerce event.